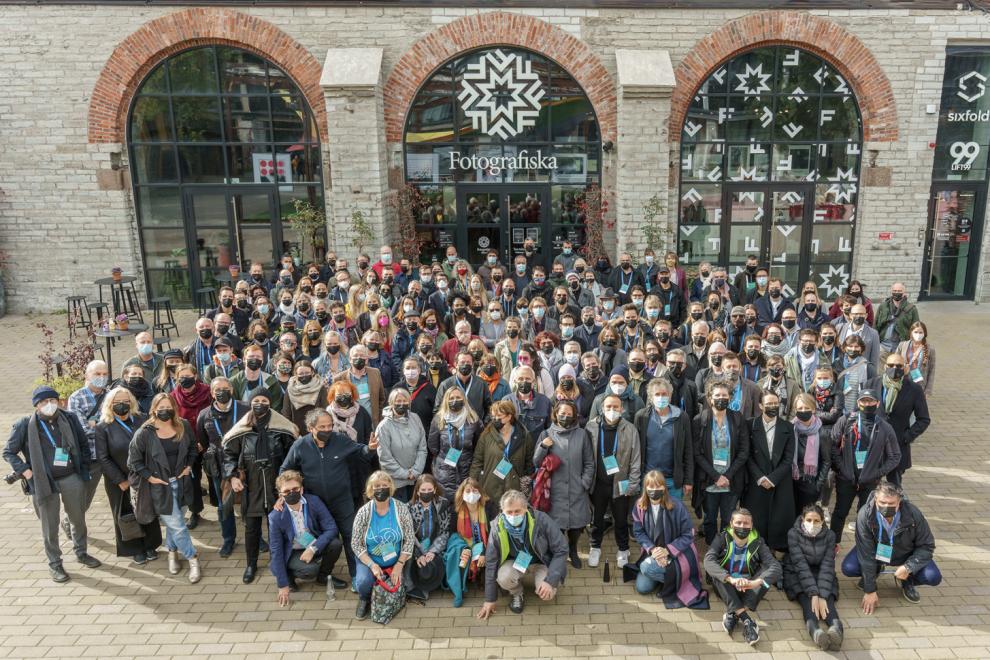 On Sunday 19 September 2021 the European Jazz Conference concluded its 7th edition. One of the most complex to organise, due to many uncertainties and restrictions caused by the covid-19 pandemic, and yet one of the most rewarding and successful so far. During five intense days, 220 international delegates from 34 different countries enjoyed the opportunity to meet again with the jazz community after a long time apart, to catch up in person and discuss common problems and possible solutions, hear the perspectives from different stakeholders of our sector and inspiring external inputs to our discussions.
The majority of delegates were festival and venue directors and representatives of national and regional support organisations, that are members of the Europe Jazz Network, but there has been a significant attendance as well by other international promoters, booking agents, artists' managers and foreign journalists.
The 2021 Conference was co-organised by Europe Jazz Network (EJN), Jazz Estonia, Jazzkaar Festivals and was co-funded by the Estonian Ministry of Culture, City of Tallinn – Candidate 2021 for Unesco City of Music, the Cultural Endowment of Estonia and the Creative Europe programme of the European Union, that is supporting EJN through its network grant for the period 2017-2021.
The morning of Friday 17 September, after the welcome remarks by Estonian authorities, started with the plenary debate "Shapes of Jazz to Come" with Maria Faust (artist, Estonia/Denmark) debating with Alexander Hawkins (artist, UK) about the impact of lockdowns and new directions that creative music can take after this crisis, moderated by Helen Sildna (Tallinn Music Week, Estonia). The afternoon saw four parallel discussion groups on rebuilding audiences after covid-19, gender balance and the pandemic, social audio and podcasts and post-covid programming. Saturday, September 18th, began with a brilliant keynote speech by Ignaas Devish, Professor in philosophy of medicine & ethics at Ghent University (Belgium), about the extent of the current crisis in relation to the notion of truth and the need to find the "homo erraticus'" within ourselves. After that, Tormis Quartet performed some rearranged tunes of Estonian composer Veljo Tormis while a video in the background was presenting some interesting facts about Estonia and its musical history. On Sunday 19 September the hosts offered to all participants three options for cultural tours: a visit to Arvo Pärt centre in Laulasmaa, a tour of Tallinn Song Festival Grounds and Jazz idealism 1967 exhibition at the Estonian History Museum, or a guided walking tour of Tallinn old town.
The showcase of Estonian bands took place at Vaba Lava and Fotografiska venues and featured: The Free Musketeers, Estonian Voices, Kristjan Randalu, Sooäär/Yaralyan/Ounaskari, Joel Remmel Trio & Aleksander Paal, Ramuel Tafenau Quintet, UMA, Kadri Voorand in duo with Mihkel Mälgand, Karja-Renard-Wandinger, Susanna Aleksandra Quartet and Peedu Kass Momentum. A Fringe programme of concerts took place in the evening in some of the city's best music clubs, Philly Joe's jazz club, Erinevate Tubade Klubi, Sveta bar and Fotografiska, and featured: Tanel Ruben Quintet with Kadri Voorand & Kristjan Randalu, Argo Vals, Rita Ray, Lexsoul Dancemachine, ImproVoc and Titoks.
Special music performances during the Conference have been the opening concert of Maria Faust together with Collegium Musicale chamber choir at Niguliste Church & Museum, who performed the new "Mass of Mary", and the concert of Trio Heinz Herbert from Switzerland, winners of the first EJN Zenith Award for emerging artists in collaboration with 12 Points Festival.
The EJN Board of Directors meeting on the day before the Conference approved three new members in EJN: So What's Next? (Eindhoven, The Netherlands), JAZZ(s)RA (Lyon, France), Plataforma Jazz España (Cádiz, Spain). EJN now has 173 member organisations in 34 countries.
The European Jazz Conference ended with a presentation from the hosts of the next edition, which will take place in Sofia, Bulgaria, between 22 and 25 September 2022 and will be co-organised by EJN and A to Z Foundation (EJN member from Bulgaria). The Conference was supposed to take place in Sofia in 2020 but was cancelled due to the pandemic. We are really looking forward to finally being there in 2022!
Group photo (c) Rene Jakobson / Jazzkaar Festivals
Photo albums of the Conference: https://www.flickr.com/photos/ejnpicture/sets/
Brochure of the Conference: https://issuu.com/europejazznetwork/docs/brochure_ejc2021