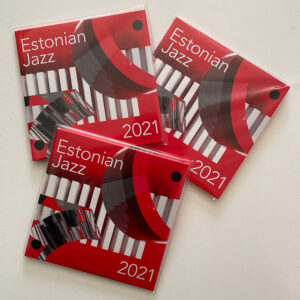 This autumn, Jazz Estonia released the 2021 edition of compilation album, which have been regularly issued in Estonia since 1996. The compilation album was prepared in time for the European Jazz Network (EJN) annual conference.
Jazz Estonia's compilation CD is issued every two years, this time it is a double CD with 30 tracks. The tracks have been recorded over the last two years and were selected amongst a large number of submissions by a 3-member international jury.
"The album has great export potential and is intended for distribution amongst jazz promoters to introduce Estonian jazz music" explains Kirke Karja, describing the recent EJN conference in Tallinn as an important milestone in giving Estonian jazz a new international profile.
Kirke Karja, Chairman of Jazz Estonia, adds: "It seems to me that this year very interesting tracks have made it onto the album and a strong whole has emerged. I have already received good feedback that the music is interesting, versatile and sounds fresh. It's a very good introduction of our musicians."
On the new 2021 compilation CD you can find fresh music from Estonian artists like Maria Faust Sacrum Facere, Holger Marjamaa Trio, Kadri Voorand in Duo with Mihkel Mälgand, Argo Vals, Ramuel Tafenau, Trio Maag feat. Isabel Bermejo, Raimond & the 3 Magi, Ain Agan, Karja/Renard/Wandinger, Alfa Collective, Tobias Tammearu Trio, 3 Free Radicals x Liis Viira, Marek Talts, Kruglov-Sooäär Quartet, Bianca Rantala String Orchestra, Joel Remmel Trio feat. Jukka Eskola, Sooäär-Yaralyan-Ounaskari, Kristjan Randalu & Dave Liebman, Susanna Aleksandra, Madis Muul Hextet, Raivo Tafenau & Tallinn Chamber Orchestra, Pennar & Friends, Kadi Vija Key Project, Janno Trump Clarity Ensemble, Modulshtein, Mingo Rajandi Quintet, Robert Jürjendal, Peedu Kass & Tallinn Chamber Orchestra, Andre Maaker and Rita Ray.
The European Jazz Network Conference, that took place in Tallinn from September 15 to 19, 2021 was organised by the European Jazz Network in cooperation with the Jazz Estonia and Jazzkaar Festival. The conference was attended by 220 foreign delegates and the collection found its way to every one of them.
The album is intended for distribution at events and for persons of interest in the music sector and thus is not available for retail sale.
Listen to the album HERE or on Spotify HERE.