26okt19:00Jazz.ee ja Türi Jazziklubi LIVE | XYQuartet (IT)19:00 Türi Jazziklubi, Hariduse 1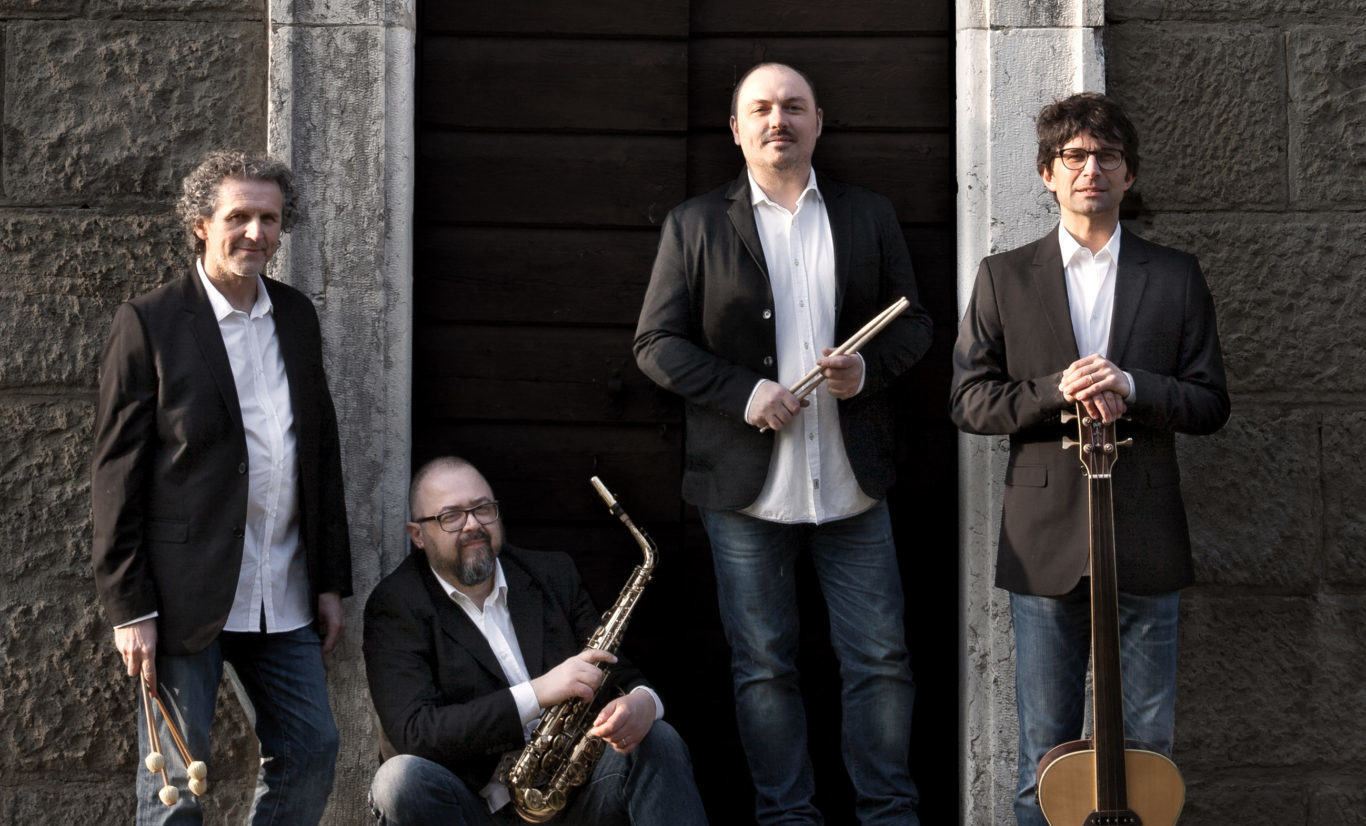 Kirjeldus

Nicola Fazzini – altsaksofon

Alessandro Fedrigo – kontrabass

Luca Colussi – löökpillid

XYQuartet on Itaalia uue jazziskeene hinnatumaid koosseise. Olles andnud välja kolm albumit ning esinenud Itaalias ja välismaal, pälvis ansambel ajakirjas Musica Jazz Itaalia jazzansamblite pingereas teise koha. 2011. aastast tegutsev XYQuartet sai alguse saksofonisti Nicola fazzini ning bassisti Alessandro Fedrigo koostööst. Koos Saverio Tasca'ga vibrafonil ning Luca Colussi'ga trummidel sündis kaasakiskuv ja innovaatiline uus looming. Projekt hõlmab mitmete muusikastiilide ning helikeelte eri tasandeid, mida seob värskendav kaasaegsus. Koos avastatakse uusi muusika kirjutamise võimalusi ning ehitatakse kontseptsioone, mis ei karda väljuda jazzi piiridest. Fazzini "X" ja Fedrigo "Y" esindavad kahte erinevat lähenemist, ideed, üksteist täiendavat identiteeti, kuid samas ka kahte pilli: altsaksofoni ja kontrabassi, millest ansambel alguse sai.

XYQuartet on andnud välja kolm albumit, "Idea F", "XY" ja "Orbite", millest viimane ilmus 12. aprillil 2017. aastal – samal kuupäeval, mil astronaut Yuri Gagarin esimese inimesena 1961. aastal Maa orbiidilt väljus. XYQuarteti muusika saab laval kolmedimensiooniliseks ning neelab kuulajad endasse.

Kontsert algab kell 19 ja toimub Türi Kultuurikeskuses, uksed avatakse kell 18.30. Piletid müügil eelmüügis Piletilevis hinnaga 7€, samal päeval koha peal 10€. Kohtasid saab broneerida telefonil 38 78 248.

Nicola Fazzini – alto sax

Alessandro Fedrigo – acoustic bass guitar

XYQuartet is one of the most appreciated groups of the new Italian jazz scene. With three albums and many concerts in Italy and abroad, it was awarded "second best Italian group" by the magazine Musica Jazz. Born in 2011 in Italy, XYQuartet is a fusion of saxophonist Nicola Fazzini and bass player Alessandro Fedrigo. They create an original, exciting and innovative music with Saverio Tasca at the vibes and Luca Colussi at the drums. This project passes through different kinds of music and artistic languages updating them to Contemporary. The group explores new ways of composing with a quirk approach. For XY, to restructure the music form is an ethics to build-up the beyond-jazz. The "X" by Fazzini and the "Y" by Fedrigo represent two approaches, two ideas, two complementary artistic

identities but also two instruments, like the alto sax and the acoustic bass guitar.

After "Idea F" and "XY", "Orbite" is the third album by XY Quartet, released on April 12, 2017, not a random date, because in the same day, but in 1961, astronaut Yuri Gagarin became the first man to orbit the Earth. Their music becomes three-dimensional on stage; it is captivating and enthralling for the public. Musically speaking it's a big step towards the evolution of this band's musical language which goes from jazz to contemporary music, from prog to post minimalism and from pop to the latest NY in influences. To do so, they research and develop this new language in a creative and influent way, putting together all these different musical codes in a very homogenous form. Since 2011, the band has played many concerts and tours in Italy and abroad, performing in well renowned stages: from Rome's Casa del Jazz to Ferrara's Torrione Jazz Club, to Umbria Jazz, Novara Jazz, Foligno Young Jazz, Ambia Jazz, Gallarate Jazz Festival, Valdarno Jazz, padova's Centro D'Arte, Pisa Jazz and many others. XYQuartet's music has recently crossed the Italian border with concerts in Austria, Germany, Slovenia, Hungary, Poland, Spain, France and Belgium.
Korraldaja