18apr19:00Jazz.ee & Viljandi Jazz Club LIVE: CORPO (SWE)19:00 Viljandi Jazziklubi, Tasuja puiestee 6, Viljandi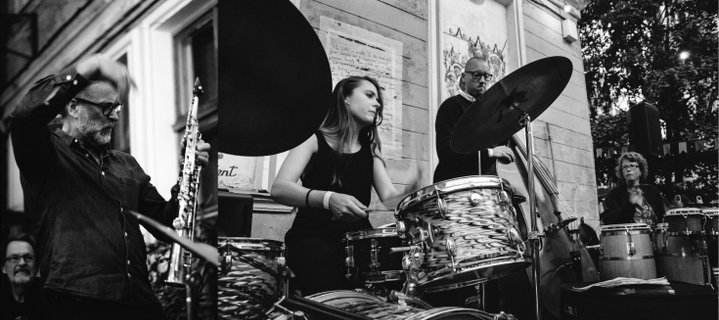 Kirjeldus

Ebba Westerberg – percussion
Thomas Markusson – double bass
Lars-Erik Norrström – keyboards
Mikael Godée – soprano sax, composition
Cornelia Nilsson – drums

Music without borders, filled with sensitivity and warmth.
CORPO presents new Jazz in the best meaning of the phrase. Five strong personalities create their own, unique and exciting music which expands and develops. It is music from the north paired with a taste of southern latitudes, reflective with a strong expression and where the pulse has a central role.

CORPO has been working as a group since 1992, and toured in Sweden, Finland, Denmark, Norway, Belgium, Holland, France, Germany, Luxembourg, Italy, Poland, Latvia, Lithuania, Belarus and went for a very successful tour to South-Africa in september 1999. The South-African audiences did really appreciate Corpos mix of nordic melodies and african percussion.

ADDITIONAL INFORMATION:

The concert will start at 7 p.m. and is held in Estonian Traditional Music Center.

An advance purchase of the ticket can be made from Piletilevi and tickets are also sold on-site. Advance purchase ticket price is €7, preferential price is €5, on the spot accordingly € 9 and €7. Preferential prices apply to schoolchildren, students, teachers, pensioners, owners of the Jazz Car Wash loyalty card, and members of the Jazz Estonia. The entrance is free of charge for the students of University of Tartu Viljandi Culture Academy, except for special events.
Korraldaja