25okt20:00Jazz.ee ja Philly Joe's LIVE | XYQuartet (IT)20:00 Philly Joe's Jazziklubi, Tatari 4, Tallinn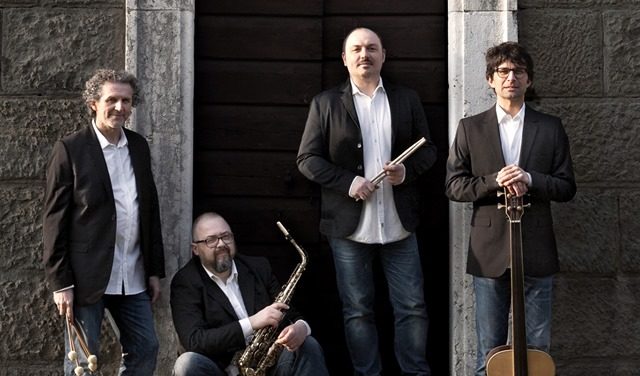 Kirjeldus

Nicola Fazzini – alto sax

Alessandro Fedrigo – acoustic bass guitar

XYQuartet is one of the most appreciated groups of the new Italian jazz scene. With three albums and many concerts in Italy and abroad, it was awarded "second best Italian group" by the magazine Musica Jazz. Born in 2011 in Italy, XYQuartet is a fusion of saxophonist Nicola Fazzini and bass player Alessandro Fedrigo. They create an original, exciting and innovative music with Saverio Tasca at the vibes and Luca Colussi at the drums. This project passes through different kinds of music and artistic languages updating them to Contemporary. The group explores new ways of composing with a quirk approach. For XY, to restructure the music form is an ethics to build-up the beyond-jazz. The "X" by Fazzini and the "Y" by Fedrigo represent two approaches, two ideas, two complementary artistic

identities but also two instruments, like the alto sax and the acoustic bass guitar.

After "Idea F" and "XY", "Orbite" is the third album by XY Quartet, released on April 12, 2017, not a random date, because in the same day, but in 1961, astronaut Yuri Gagarin became the first man to orbit the Earth. Their music becomes three-dimensional on stage; it is captivating and enthralling for the public. Musically speaking it's a big step towards the evolution of this band's musical language which goes from jazz to contemporary music, from prog to post minimalism and from pop to the latest NY in influences. To do so, they research and develop this new language in a creative and influent way, putting together all these different musical codes in a very homogenous form. Since 2011, the band has played many concerts and tours in Italy and abroad, performing in well renowned stages: from Rome's Casa del Jazz to Ferrara's Torrione Jazz Club, to Umbria Jazz, Novara Jazz, Foligno Young Jazz, Ambia Jazz, Gallarate Jazz Festival, Valdarno Jazz, padova's Centro D'Arte, Pisa Jazz and many others. XYQuartet's music has recently crossed the Italian border with concerts in Austria, Germany, Slovenia, Hungary, Poland, Spain, France and Belgium.

ADDITIONAL INFORMATION:
The concert starts at 8 p.m. the doors will be opened from 9 p.m. The seats are not numbered. You can make reservations be sending the message in Facebook.

An advance purchase of the ticket can be made from Ticketer and tickets are also sold on-site.
Advance purchase ticket price is €12, preferential price is €8, on-site accordingly €15 and
€10. Preferential prices apply to schoolchildren, students, teachers, pensioners, owners of the Jazz Car Wash loyalty card and members of the Jazz Estonia.
Koht

Philly Joe's Jazziklubi

Tatari 4, Tallinn
Korraldaja