10veeb18:00Jazz.ee ja Jazz Time Club LIVE | Madis Muul Hextet18:00 Jazz Time Club, Kesk 24, Sillamäe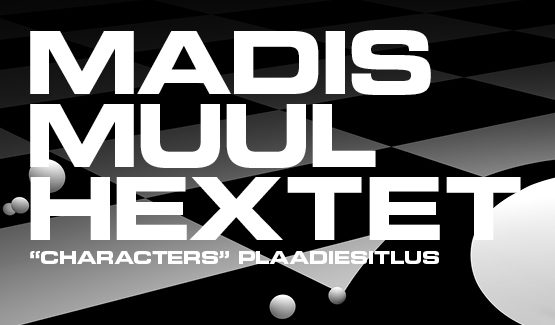 Kirjeldus

Madis Muul – keyboards, compositions

Pent Järve – guitar

Raimond Mägi – double bass

Hans Kurvits – drums

Hans-Jürgen Kruus – bass clarinet

Marten Altrov – bass clarinet

Martin Kuusk – clarinet, alto saxophone

Danel Aljo – clarinet, tenor saxophone

Madis Muul Hextet, incorporating eight of Estonia's most brilliant younger generation musicians, will present their new album at the Jazz Estonia concert at Jazz Time Club.

Madis Muul Hextet is an octet that consists of a rhythm section and four clarinets. Madis Muul, the creator of Hextet, tells about the new album to be presented: "In music creation I've been inspired by theatre, my life and society. Successful cooperation with VAT Theatre as provided me with deeper understanding of different characters in this world. Each story talks about different characters around us. The listener can recognise these characters, create their own links and possibly even create their own version of them. I would describe this music as a journey including melancholy, irony and psychedelics, and where different genres like jazz, proge, acoustic and electronics collide.  So, at the concert we are going to present an album called "Characters", recorded in a retro atmosphere. Marta Jakovski is participating as a guest soloist."

Madis Muul is a keyboard player, pianist and composer. He has written and recorded music for bands like Flavor, Power Play, New Dimensions, MA and Madis Muul Hextet. Madis Muul also participates in various jazz and pop music groupings (JT Conception, Andres Alaru Trio, Raul Vaigla, Lenna, and others). In addition, Muul has been active in several theatre plays both as a performer of music ("Faust", "A Man Who Did Not Do Anything") and as a composer ("Luncheon on The Lawn", "Adam and Eve"). Madis Muul has graduated from the Georg Ots Tallinn Music School with the specialisation in pop-jazz piano (teachers V.Vysotsky, S.Pedersen), and has also studied jazz accordion in the same school (teacher T.Kalluste). At the moment, Madis is finalising his studies in the field of jazz piano at Siena Jazz University in Italy.

LISTEN TO:

https://madismuul.bandcamp.com/track/cubist

https://m.youtube.com/watch?v=9BdQJ20V5S8

ADDITIONAL INFORMATION:
The concert starts at 6 p.m., the doors will be opened from 5 p.m. The concert will be held at
Sillamäe Culture Centre

Tickets are sold on-site. The ticket full price is €5, preferential price €3. Preferential prices
apply to schoolchildren, students, teachers, pensioners, owners of the Jazz Car Wash loyalty
card, and members of the Jazz Estonia.
Korraldaja