18apr20:00Jazz.ee ja Aparaadijazz LIVE | MA20:00 Erinevate Tubade Klubi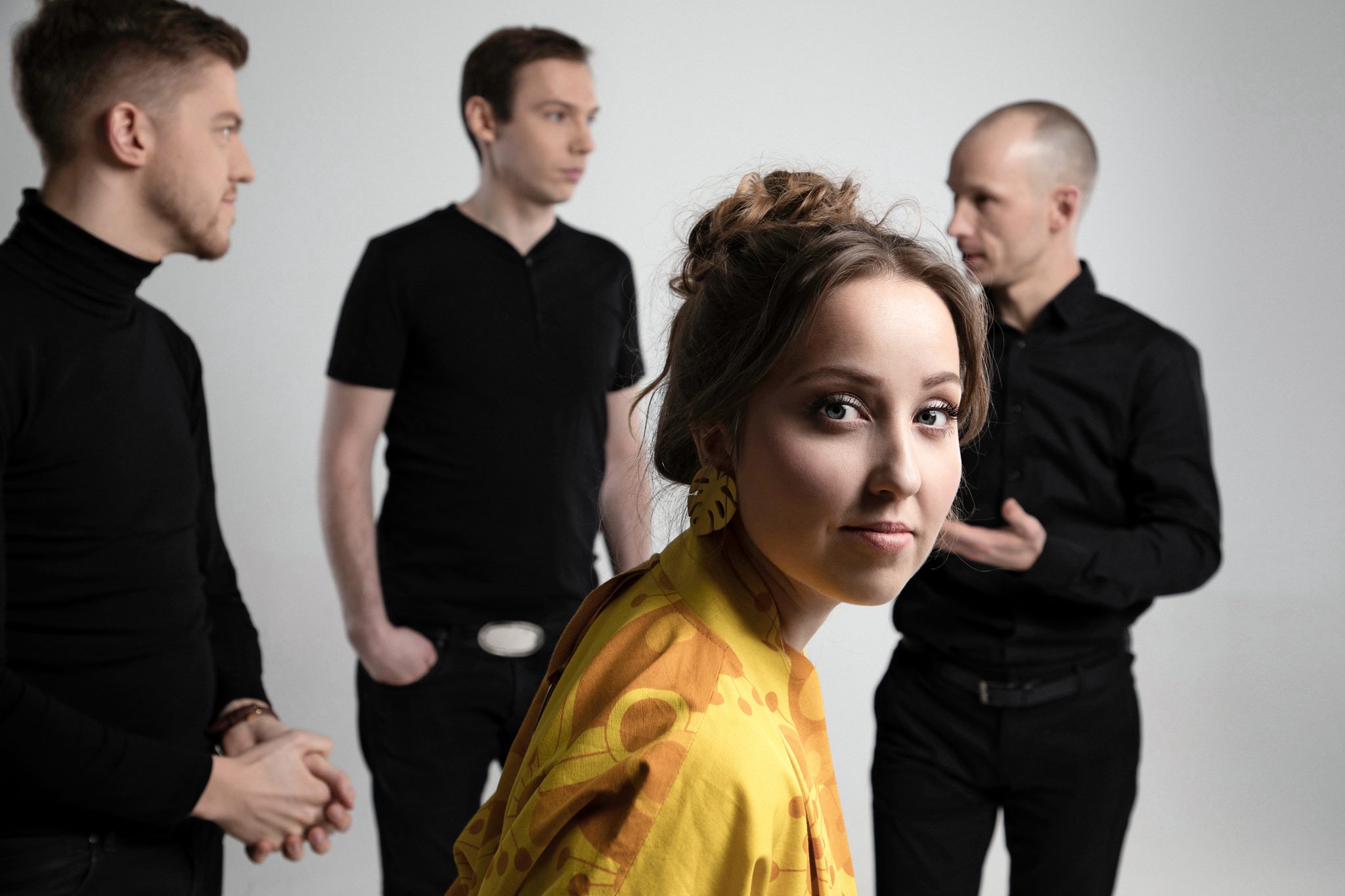 Kirjeldus

Janno Trump – bass guitar/Moog synth

Madis Muul – keyboards/piano

Dmitri Nikolajevski – drums

MA is a four-member band wandering on the soul music scene. Roaming on inner insights, feeling the rhythms of life, accepting and expressing them though improvisation, groove and English. MA's music and live concerts capture your mind, soul and heart and carry you along to explore their world. With their first song "Don't Throw This Heart Around" the band managed to become one of the semi-finalists at the International Songwriting Competition (ISC) 2017. The band, launched by Maarja Aarma in 2017, performs the creation of the singer herself, bassist Janno Trump and pianist Madis Muul, and a significant additional vision to this is given by Dmitri Nikolajevski on drums. MA's concerts also include performing at the beloved Estonian jazz festival Jazzkaar 2018.

Maarja Aarma is a versatile young singer. Her debut album "Püsimatu hing" with an 8-member jazz band Gretagrund, of which she is one of the leaders and authors of the creation, was released in 2015. In addition to the role of being a singer, lyrics and music writer, she arranges music to vocal ensembles, choirs and instrumental ensembles (European Film Awards Gala Concert in Tallinn, Pop Choir Fest, Lenna & Estonian Voices Tour). Maarja is also a back singer of the pop band Lenna. She has graduated from Georg Ots Tallinn Music School in the field pop-jazz singing and from the Estonian Academy of Music and Theatre in jazz singing. She has had additional singing training in Norway (Universutetet i Stavanger) and Great Britain (North Glasgow College). At the Uno Naissoo Competition for Creation and Interpretation in 2017, she was awarded the Best Singer Award.

Janno Trump is one of the most valued younger generation bassists. Primarily he's active as a jazz musician but he has played together and recorded with very different pop and rock artists. He has written music for smaller jazz ensembles as well as for a big band and is a leader of jazz funk orchestra JT Conception. In 2017 Janno Trump won the Young Jazz Talent Award at the Jazzkaar festival.

Madis Muul is a keyboard player, pianist and composer. He has written and recorded tracks to ensembles like Flavor, Power Play, New Dimensions, MA and Madis Muul Hextet. He also participates in various different jazz and pop music groups (JT Conception, Andres Alaru Trio, Raul Vaigla, Lenna etc.). In addition, he has contributed to several theatre plays both as a performer of music ("Faust", "A Man Who Did Not Do Anything") and a composer ("Luncheon on the Grass", "Adam and Eve"). He has graduated from Georg Ots Tallinn Music School in the field of pop-jazz piano (teachers V.Vyssotsky, S.Pedersen), and has also studied jazz accordion (T.Kalluste) in the same school. Right now he is finalising his studies in jazz piano at Siena Jazz University in Italy.

Dmitry Nikolayevski is an Estonian drummer who has played the percussions in many bands and musical projects. Having played jazz, latin music, rock, soul etc, Dmitry is known as a versatile musician both on the stage and in the studio. He has performed with many singers and musical projects, for example Denise Fontoura, Jam Gansters, Xpress Quartet, Kristjan Kasearu, Tanja Mihhailova, JT Conception and many others. Dmitry has studied at the Georg Ots school and the Academy of Music.

The concert starts at 8 p.m. The concert is held at Tartu Erinevate Tubade Klubi.

An advance purchase of the ticket can be made from Piletilevi and tickets are also sold on-site.

Advance purchase ticket price is €8, preferential price is €6, on-site accordingly €10 and € 6.

Preferential prices apply to schoolchildren, students, teachers, pensioners, owners of the Jazz

Car Wash loyalty card, and members of the Jazz Estonia.
Koht

Erinevate Tubade Klubi
Korraldaja